Startup Founders
The AI Meeting Assistant to
boost your lean startup
Achieve more with a smaller team. Save your team extra 28 hours monthly to focus on the product, not admin. Keep your team and investors aligned and informed.
Try Nyota free trial
Why use Nyota for your startup
Build a high-performing team ready for scale
Nyota boosts consistent decision documentation, ensuring clarity on roles, tasks, and vision. With heightened transparency, engagement surges, priming your team for efficient scaling.
Increase stakeholder satisfaction by 35%
Engage your stakeholders, from investors to leads and customers. Streamlined communication and thorough documentation increase stakeholder engagement by 35%.
Seamless integration with your tools
Integrate effortlessly with popular Project Management tools, CRMs, and documentation systems. Centralize your workflows and boost operational efficiency without skipping a beat.
Secure and private by design
Designed from the ground up to prioritize your security and privacy. All data is encrypted at rest, our staff undergoes security trainings, and we adhere to the highest level of security standards.
Productivity
Second-best thing to cloning yourself
Time is your most valuable asset. You no longer have to choose between attending team meetings or talking to customers. Nyota summarizes meetings, flags issues, and integrates with Zapier to automate repetitive tasks, leaving you free to focus on what matters most: building your business.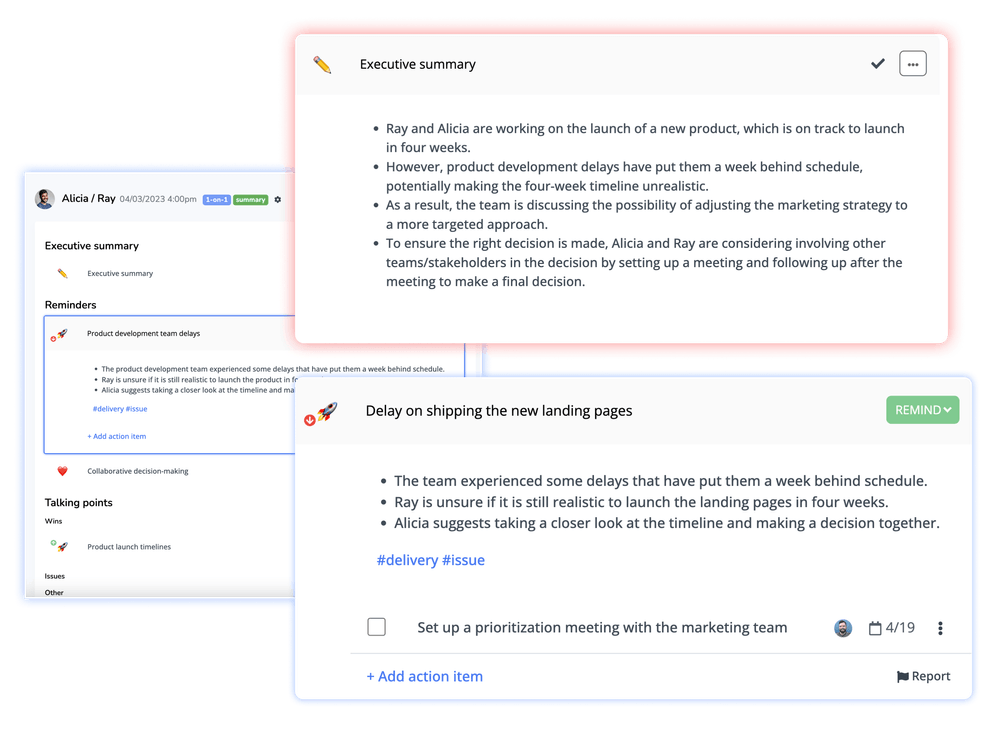 Shared context
Build your team's momentum
Empower your team to translate conversations directly into actionable tasks. With Nyota, you can effortlessly:
Transform discussions into detailed tickets with clear acceptance criteria.
Generate internal process documentation to maintain a consistent workflow.
Draft feature descriptions for upcoming release notes.
And more, using our intuitive pre-made templates.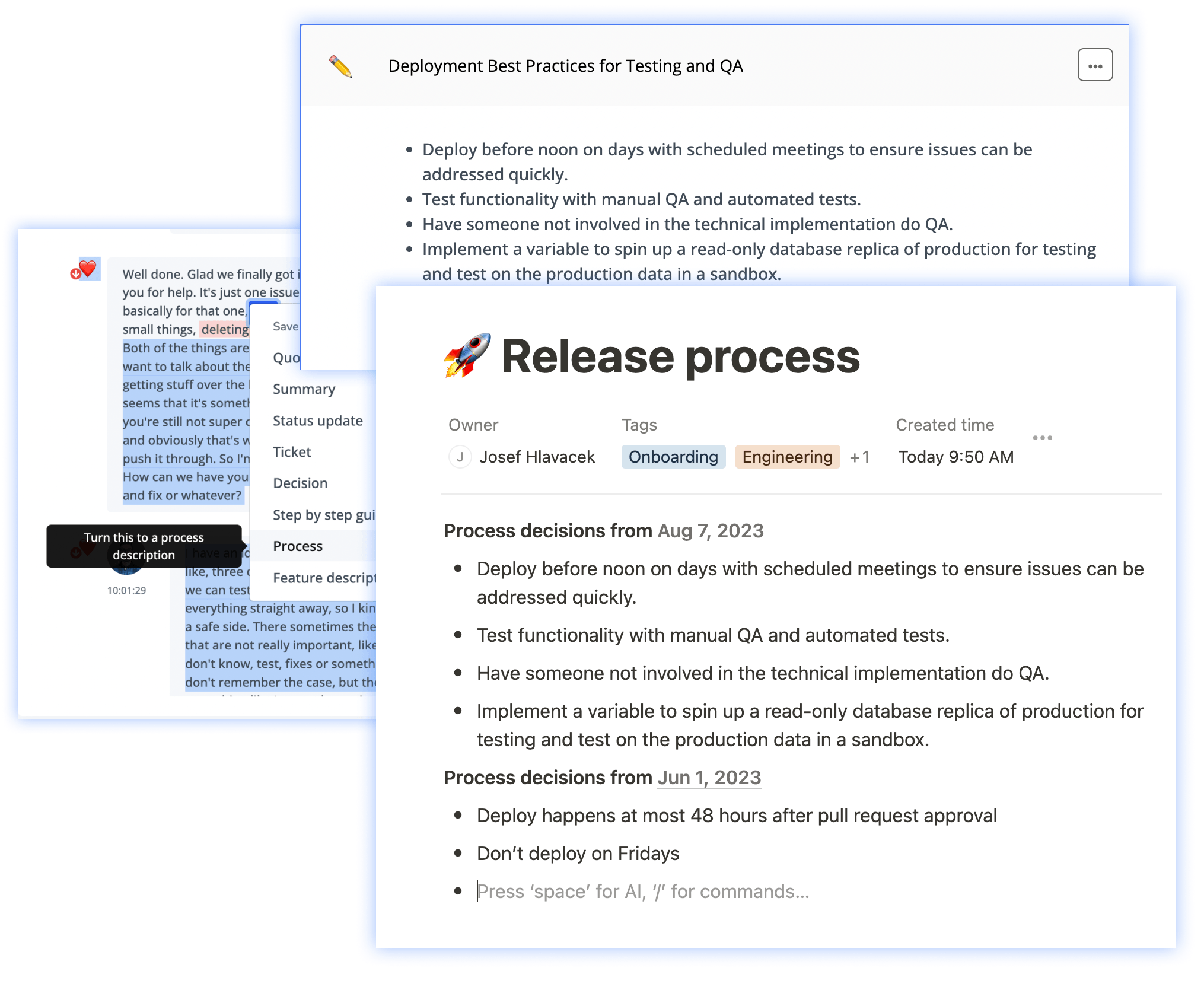 Stakeholder expectations
Elevate customer relations and boost sales
Understanding customer needs and closing deals are foundational to your startup's success. Nyota's intelligent summaries of customer interviews and sales conversations feed directly into your CRM. Automate follow-up emails and keep track of customer interactions, all while identifying problematic areas that need immediate attention. Turn your conversations into actionable insights.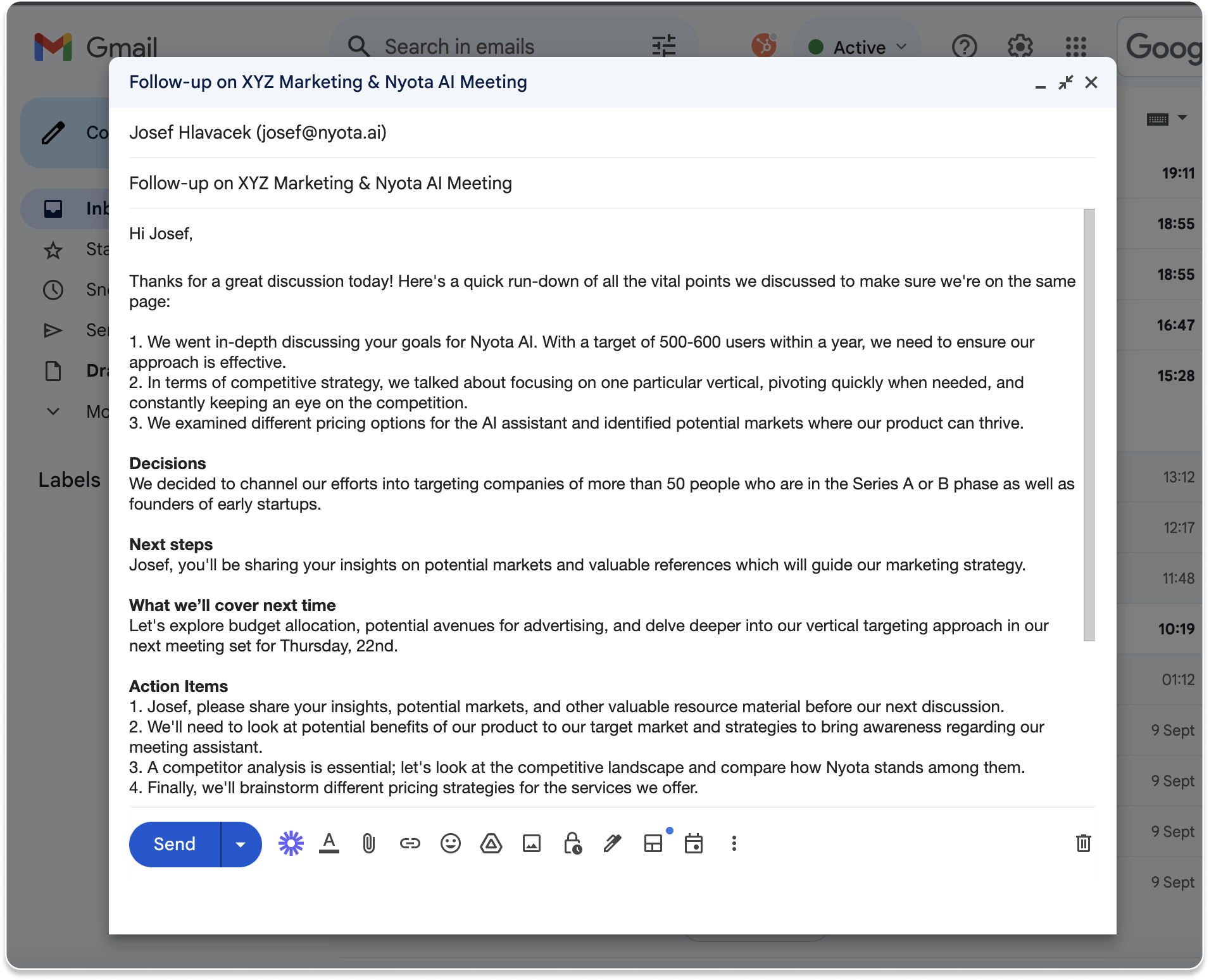 Shared context
Surface the information where your team works
With one of the automated workflows incorporate the note in tools where your team already operates. Nyota integrates with 100s of products through Zapier. Learn more about Zapier integrations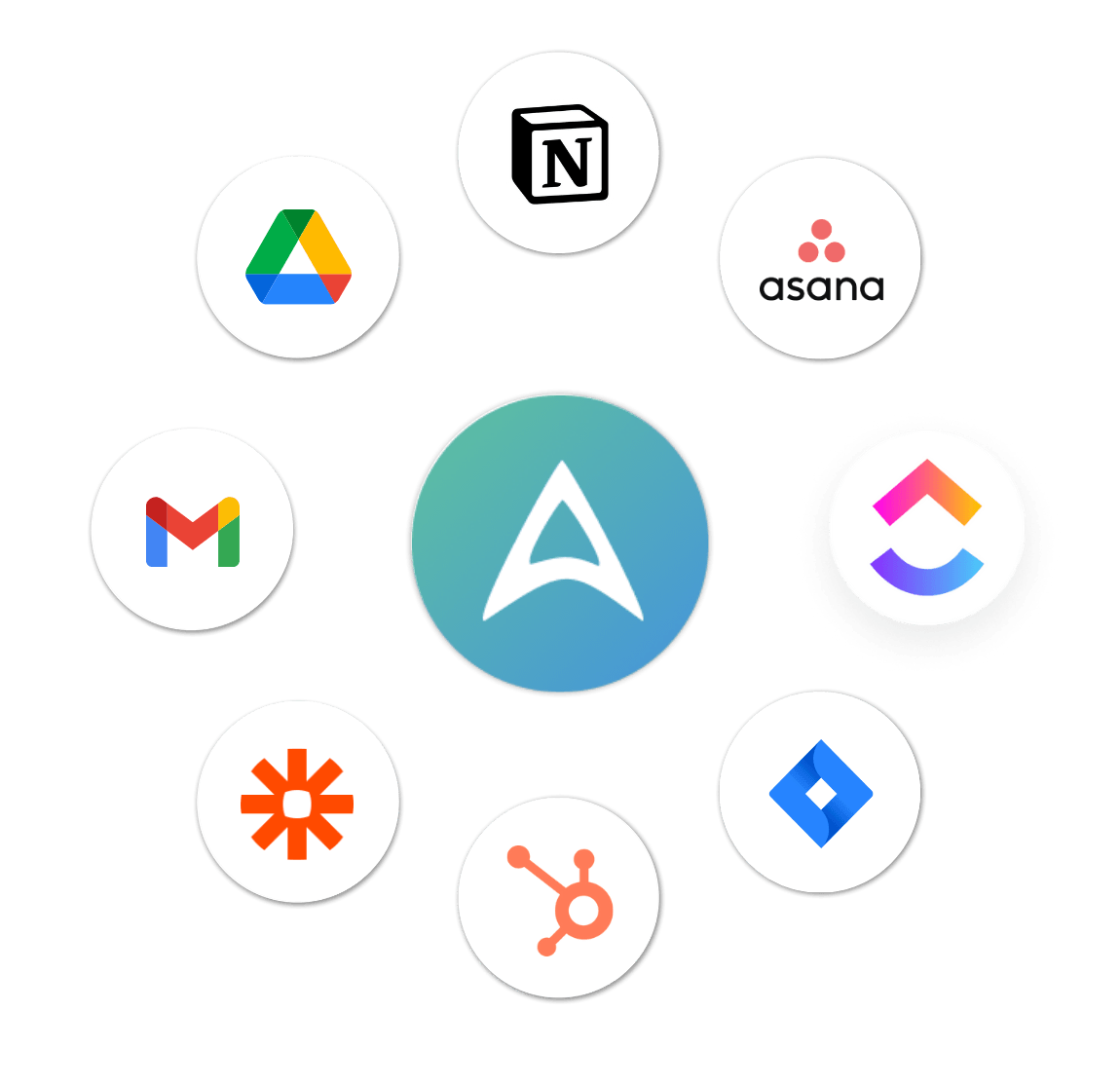 Our clients
Trusted by 1000s of founders
Join thousands of teams already using Nyota to lead their startups



Get started
Get started for free
Ready to try out Nyota on your first meeting?
Try Nyota free trial
14-day free trial, no credit card required
A day with Nyota
Morning briefing
Start your day knowing exactly what needs to be done. Review action items before the meeting so you don't have to chase them later.
Suggested topics
Nyota suggests agenda items from previous conversations and project management tool, Jira, and Github activity.
Synced with your calendar
Nyota keeps an eye on your calendar and joins relevant meetings automatically.
Or you choose which meetings to sync by adding meet@nyota.ai as a participant.
GPT-4 powered meeting notes
Nyota takes notes about your team members' wellbeing, project delivery, collaboration, and growth so you can be fully present and focus on the conversation.
Summaries tailored for different meeting types
We collate all the notes into a summary tailored for every type of meeting, be it a 1-on-1, team retrospective, daily update, or planning.
Access from anywhere
No need to download another app. Nyota has first class Slack integration. Collaborate and keep your follow-ups visible, edit summaries, and prepare for your meetings without leaving the conversation.
Insights from your meetings
See your meetings in context and get a second pair of eyes. Keep track of repeated topics or recurring issues that might not be obvious at the first glance.
Sign off with confidence
At the end of the day Nyota will ping you to tie up any loose ends and review the day. Sign off knowing you've covered everything.
Integrations
Nyota can join Google Meet, Microsoft Teams, and Zoom conferences. It integrates with your favourite developer tools where your team is already working and 100s of other tools through Zapier.






Get started
Get started for free
Ready to try out Nyota on your first meeting?
Try Nyota free trial
14-day free trial, no credit card required
Privacy by design
We have designed Nyota purposefully to foster trust during confidential conversations. Built-in privacy controls for all meeting participants. You own your data, you decide what gets stored and how it's accessed and processed. We do not store voice recordings and provide tools to delete and redact transcripts. All data is encrypted at rest.