Project Managers
With 30 hours a week in meetings
make the other 10 count
Don't waste time rewriting what's already been said. Use Nyota to save hours in admin, keep everyone up to speed and ship your projects on time.
Try Nyota free trial
Why use Nyota for running your projects
Deliver your projects on time
Nyota detects potential blockers and issues and flags them before they become an issue, so you can act swiftly. Our customers report 30% more of their projects delivered on time and budget than before.
Reclaim 28 hours each month
Nyota captures action items, decisions, and notes, eliminating admin work. This gives you back up to 7 hours a week, 28 hours each month.
Seamless integration with your tools
Nyota offers seamless integrations with hundreds of Project Management tools and CRMs. Say goodbye to juggling multiple platforms—centralize your workflows and boost operational efficiency.
Secure and private by design
Designed from the ground up to prioritize your security and privacy. All data is encrypted at rest, our staff undergoes security trainings, and we adhere to the highest level of security standards.
Meeting intelligence
Detect and surface blockers
Nyota's AI-powered engine scans meeting conversations for keywords and phrases that suggest potential project blockers. When detected, these are immediately flagged and displayed on your dashboard, allowing you to address issues before they escalate into major problems. By proactively tackling these hindrances, you set your project on a course for success, mitigating delays and overruns.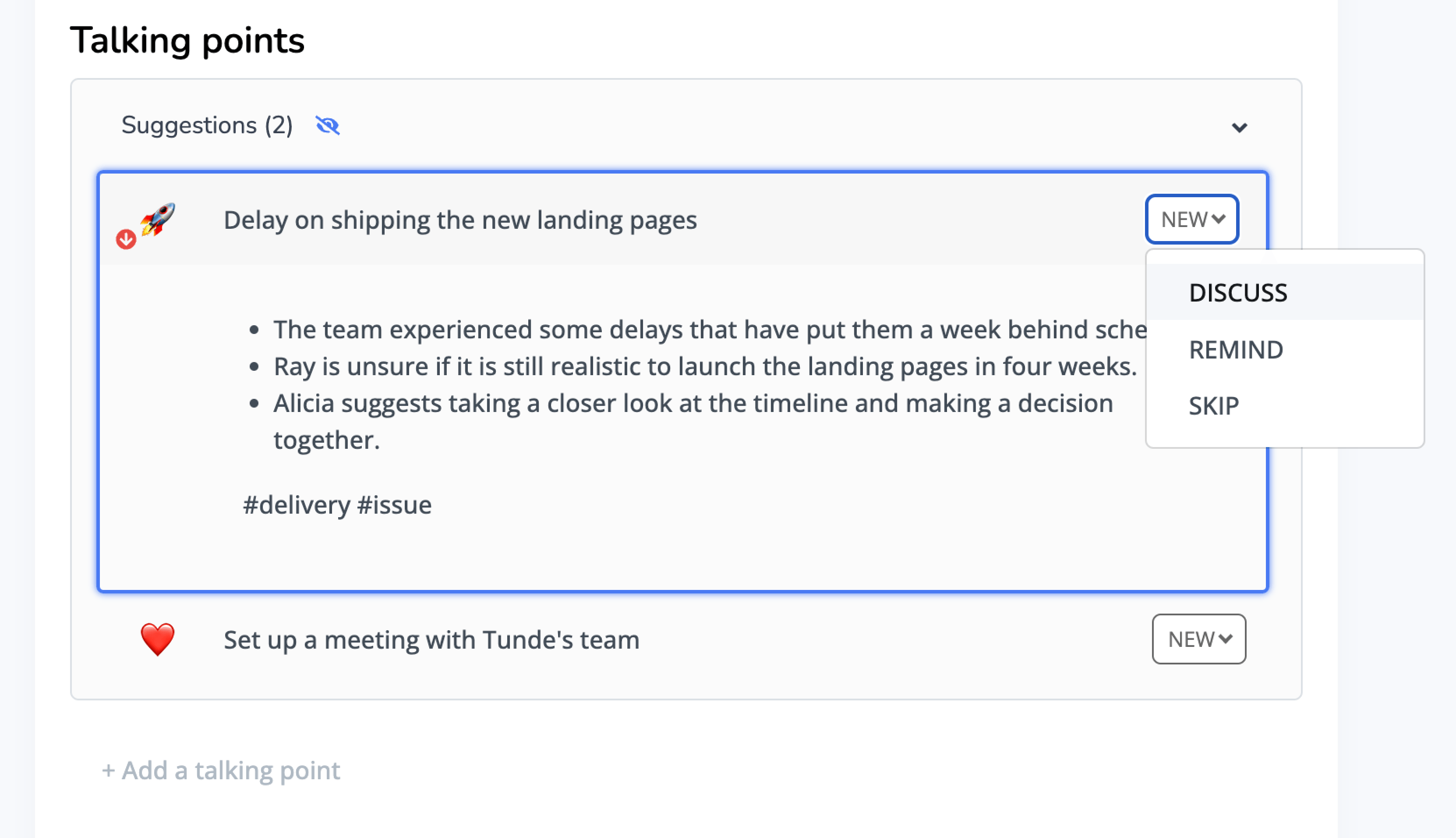 Shared context
Get your whole team on the same page
Never wonder what was decided. Standup updates and meeting takeaways will give your team better visibility into ongoing work. All synced directly to Slack.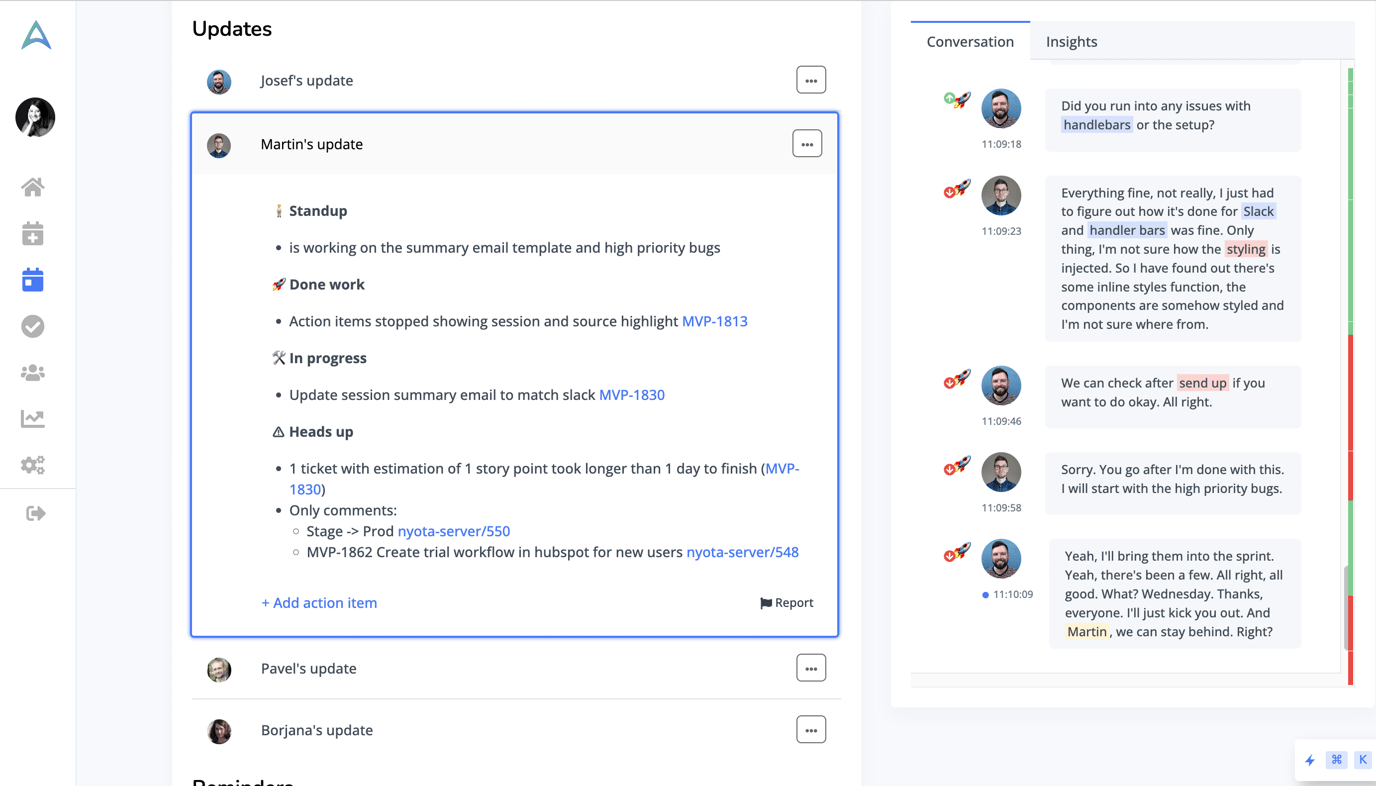 Custom notes
Transform conversations into actionable tasks
Select any part of your transcripts to rephrase and send them to your PM tools. Select one of premade templates and Nyota will do the rest. The templates include:
tickets with acceptance criteria for project tools
processes for internal documentation
feature descriptions for release notes
and more
Shared context
Bring it all together where you work
With one of the automated workflows incorporate the note in tools where your team already operates. Nyota integrates with 100s of products through Zapier. Learn more about Zapier integrations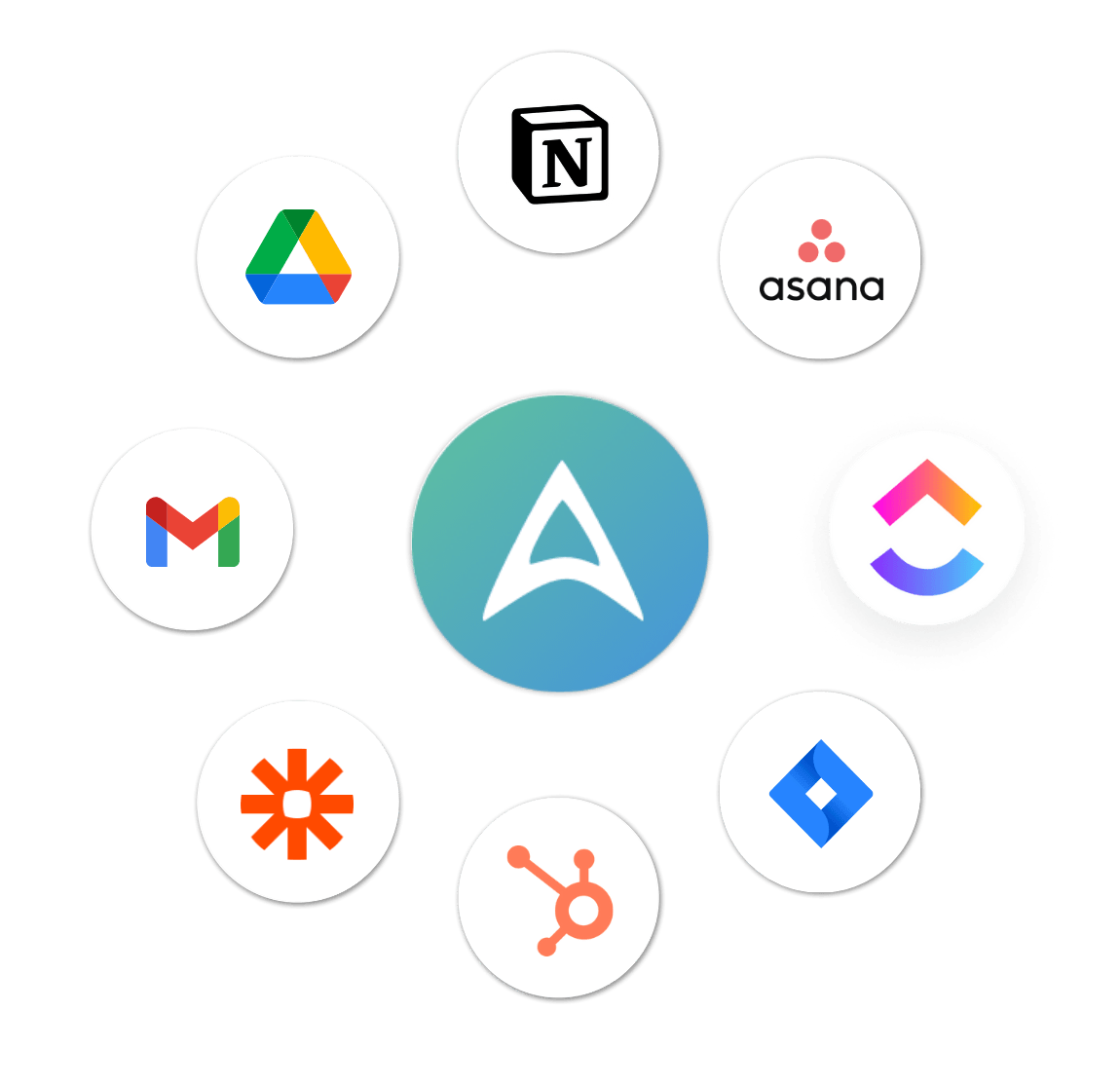 Our clients
Trusted by 1000s of PMs
Join thousands of teams already using Nyota to manage their projects



Get started
Get started for free
Ready to try out Nyota on your first meeting?
Try Nyota free trial
14-day free trial, no credit card required
A day with Nyota
Morning briefing
Start your day knowing exactly what needs to be done. Review action items before the meeting so you don't have to chase them later.
Suggested topics
Nyota suggests agenda items from previous conversations and project management tool, Jira, and Github activity.
Synced with your calendar
Nyota keeps an eye on your calendar and joins relevant meetings automatically.
Or you choose which meetings to sync by adding meet@nyota.ai as a participant.
GPT-4 powered meeting notes
Nyota takes notes about your team members' wellbeing, project delivery, collaboration, and growth so you can be fully present and focus on the conversation.
Summaries tailored for different meeting types
We collate all the notes into a summary tailored for every type of meeting, be it a 1-on-1, team retrospective, daily update, or planning.
Access from anywhere
No need to download another app. Nyota has first class Slack integration. Collaborate and keep your follow-ups visible, edit summaries, and prepare for your meetings without leaving the conversation.
Insights from your meetings
See your meetings in context and get a second pair of eyes. Keep track of repeated topics or recurring issues that might not be obvious at the first glance.
Sign off with confidence
At the end of the day Nyota will ping you to tie up any loose ends and review the day. Sign off knowing you've covered everything.
Integrations
Nyota can join Google Meet, Microsoft Teams, and Zoom conferences. It integrates with your favourite developer tools where your team is already working and 100s of other tools through Zapier.






Get started
Get started for free
Ready to try out Nyota on your first meeting?
Try Nyota free trial
14-day free trial, no credit card required
Privacy by design
We have designed Nyota purposefully to foster trust during confidential conversations. Built-in privacy controls for all meeting participants. You own your data, you decide what gets stored and how it's accessed and processed. We do not store voice recordings and provide tools to delete and redact transcripts. All data is encrypted at rest.